Keratin Treatment | Cost | How Long Does It Last & Take
If your looking for information about how much keratin treatment costs, how long it lasts, or how long it takes, this post should help!
Keratin hair straightening treatments can turn your wild and frizzy untamed hair into soft silky smooth hair. Since keratin is a natural protein it also reduces the chance of split ends or breakage by strengthening your hair.
Keratin Treatment Before and After
What Are Keratin Treatments?
According to WebMD, keratin treatments are a performed using chemicals to semi permanently straighten and smooth your hair. Wikipedia states, that keratin is a fibrous structual protein used to protect epithelial cells and can be found in horns, hooves, claws, nails, and hair.
What is Keratin Hair Straightening?
The natural protein of your hair, Keratin is also present on our nails and teeth. It keeps our hair shiny and straight. When our hair becomes dry and tangled, we need to replace the protein in our hair – this is known as Brazilian Keratin treatment. Because of this, you will not have to spend time straightening your hair every single day!
Here a few tips if you choose this treatment:
Your eyes and skin must be properly protected during the course of this treatment.
Avoid repeating these treatments for at least 6-8 months to give your hair a rest.
How Much Does Keratin Treatment Cost?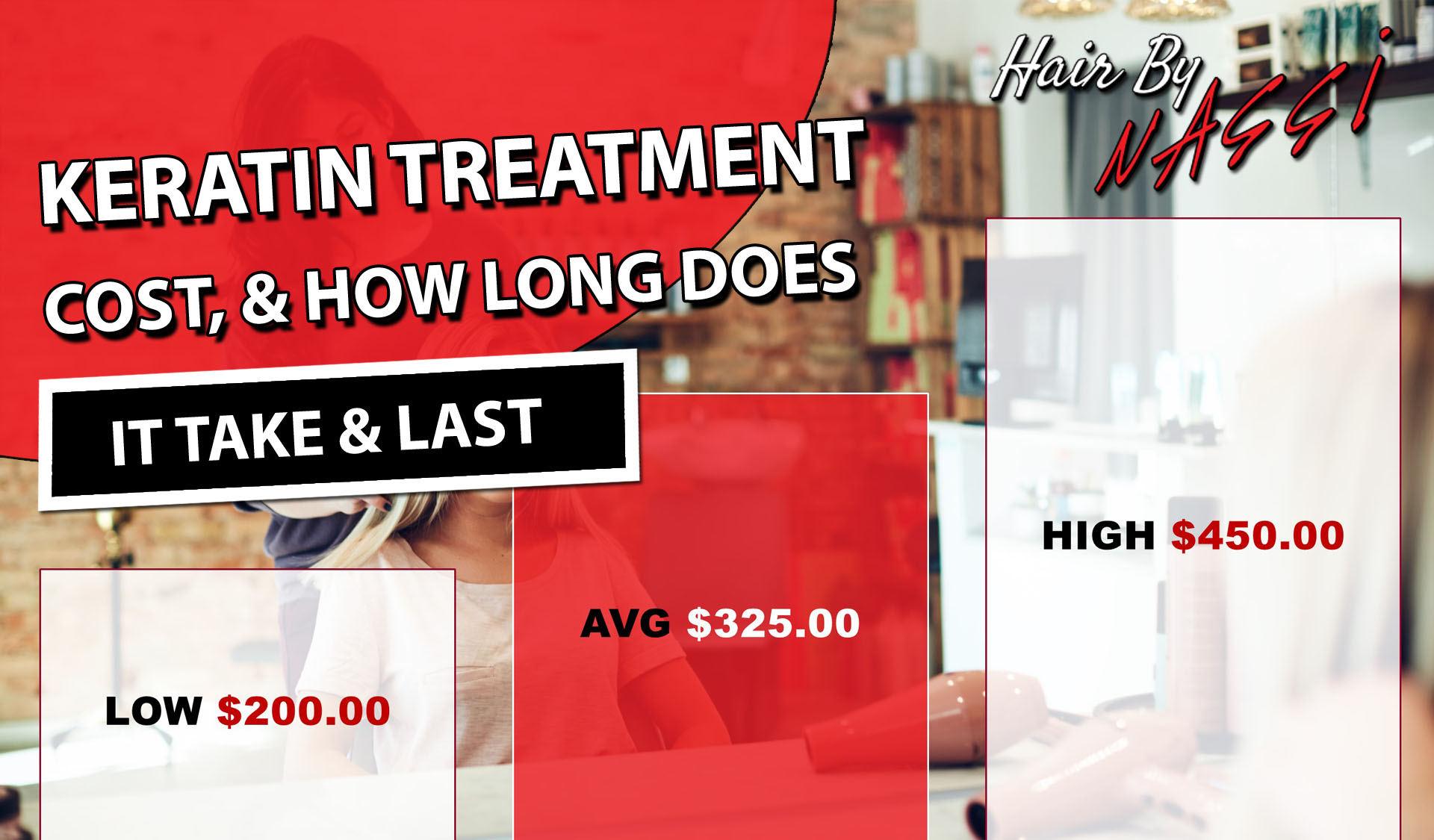 The average price range for Keratin treatment is between $250 and $450 based on information provided by Yellow Pages. This price is influenced by  a few factors like the lenght of your hair, the experience level of the stylist, and the area the salon is located.
Allure states, that you should expect to pay upwards of $200 at a salon and to be suspicous of any salon that charges less than $200 because the results can be subpar and can actually damage your hair. You can acheive similar results at home for as little as $10 by using some of the products listed on Best Products.
How Long Does Keratin Treatment Take?
Based on information from The Cut, your visit to the salon for keratin treatment can take between 2 to 4 hours. This will depend on the process the technician uses and if there are any additional  steps like a second washing or adding protective chemicals to your hair.
Keratin Treatment for Thin Hair
Since keratin is a naturally occuring protein Adore Beauty reccomends keratin treatment but reccomends using smoothing instead of straightening. By adding keratin you will help your hair become stronger and improve your natural rebonding process.
How Are Keratin Treatments Different From Japanese Treatments or Relaxer?
Keratin hair treatments share some similarities to traditional Japanese straightening and conventional relaxers but they also have striking differences. Keratin is more of a temporary treatment that is meant to last for a few weeks by using glyoxylic acid. Regular relaxers and Japanese treatments are meant to be longer lasting because they permanently alter your hair's make up with sodium hydroxide and ammonium thioglycolate based on information provided by Harper's  Bazaar.
Hair By Nassi Offers Keratin Treatment In Mesa & Scottsdale